Somali and American Fund for Education Mobile Site
In 2013, I discovered the Somali and American Fund for Education through
idealist.org
. SAFE was looking to hire a volunteer designer to redesign their logo and website. I was interviewed to be their volunteer designer and happily accepted the challenge. SAFE describes themselves this way:
"
The Somali and American Fund for Education (SAFE) is a 501(c)3 non-profit organization that builds and improves K-12 schools in Somalia. Our efforts focus on improving the quality of existing community managed schools. We believe access to education for children is the most critical component to combating human developmental challenges facing Somalia. We receive annual requests for funds from K-12 schools in Somalia. We use rigorous selection criteria including a community vetting process to select schools for funding. Through our local partners, we implement the SAFE Certification Program which certifies selected schools for accountability and helps build their capacity to effectively implement the SAFE funds.
"
At the time I was learning Wordpress and SAFE wanted a site they could edit themselves. I used HTML, CSS, and JavaScript to create a custom Wordpress template as well as website graphics for them. At the time the site was not responsive and was meant to be viewed on the desktop. The nonprofit is currently offline, but you can view some of the old website pages I created in larger sizes 
here
. 
Now that I am more familiar with the user experience design process and responsive design, I decided to redesign this website as a mobile first site, applying the UX/UI principles and processes I learned. 
Please note: I am updating my site as I complete this personal project, so please come back soon to view updates.
Role:
 User Experience Designer, User Interface Designer 
Programs Used:
 Sketch, InVision, CanvasFlip, Photoshop, Illustrator, InDesign
The old desktop website on a mobile screen.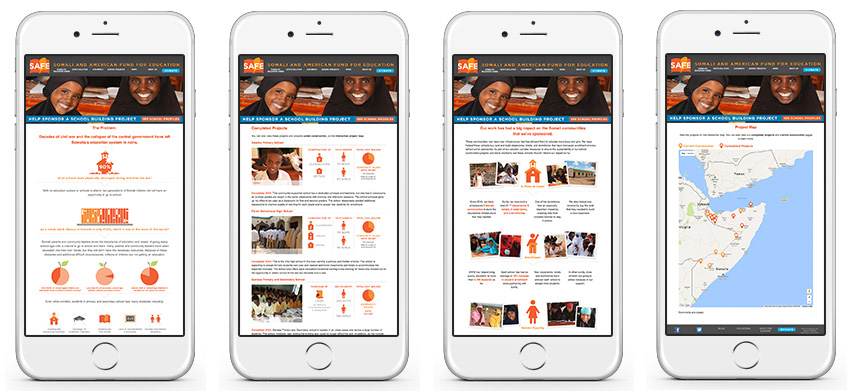 Current Information Architecture
To better understand the information architecture of SAFE's old website, I created a site map and also mapped out the content of some key screens by sections. What I observed is that the largest part of the page is often devoted to educating the user about Somalia's education crisis/SAFE and showing the user the tangible impact of donations received by SAFE. Some sections of the website such as "Donate" and "Volunteer" were repeated in the site map and appeared in multiple places on the website.

As of 2013, SAFE received the majority of it's donations through foundations such as The Coca-Cola Foundation, Cultures of Resistance Network, and The Price Family Foundation. SAFE also drove traffic to it's website through Facebook and blog posts, and received individual contributions. The goal of any nonprofit is to solicit donations, so to focus my user research, I chose to find out more about two types of donors: corporate foundation donors and individual donors. 
To begin my research on individual donors, I interviewed five people using a 22 question survey. I set out to find answers relating to these questions:
• How do individual donors arrive at a nonprofit's website? Once there, what motivates them to give?
• How often do individual donors give and how much? What type of donation do they prefer to make?
• What role does social media play in nonprofit discovery, word of mouth, fundraising, and donations?
To begin my research on corporate donors, I interviewed a professional marketer who has worked at various nonprofits for over 5 years. I also did my own research of the Coca-Cola Foundation and Price Family Foundation. I set out to find answers relating to these questions:
• How do corporate donors discover and choose which nonprofits to donate to?
• When a corporate donor arrives at a nonprofit's website, what are they looking for? 
• In what ways do corporate donors choose to allocate their funds to a nonprofit?
Using this research, I compiled two user personas: one for individual donors, and one for corporate foundation donors.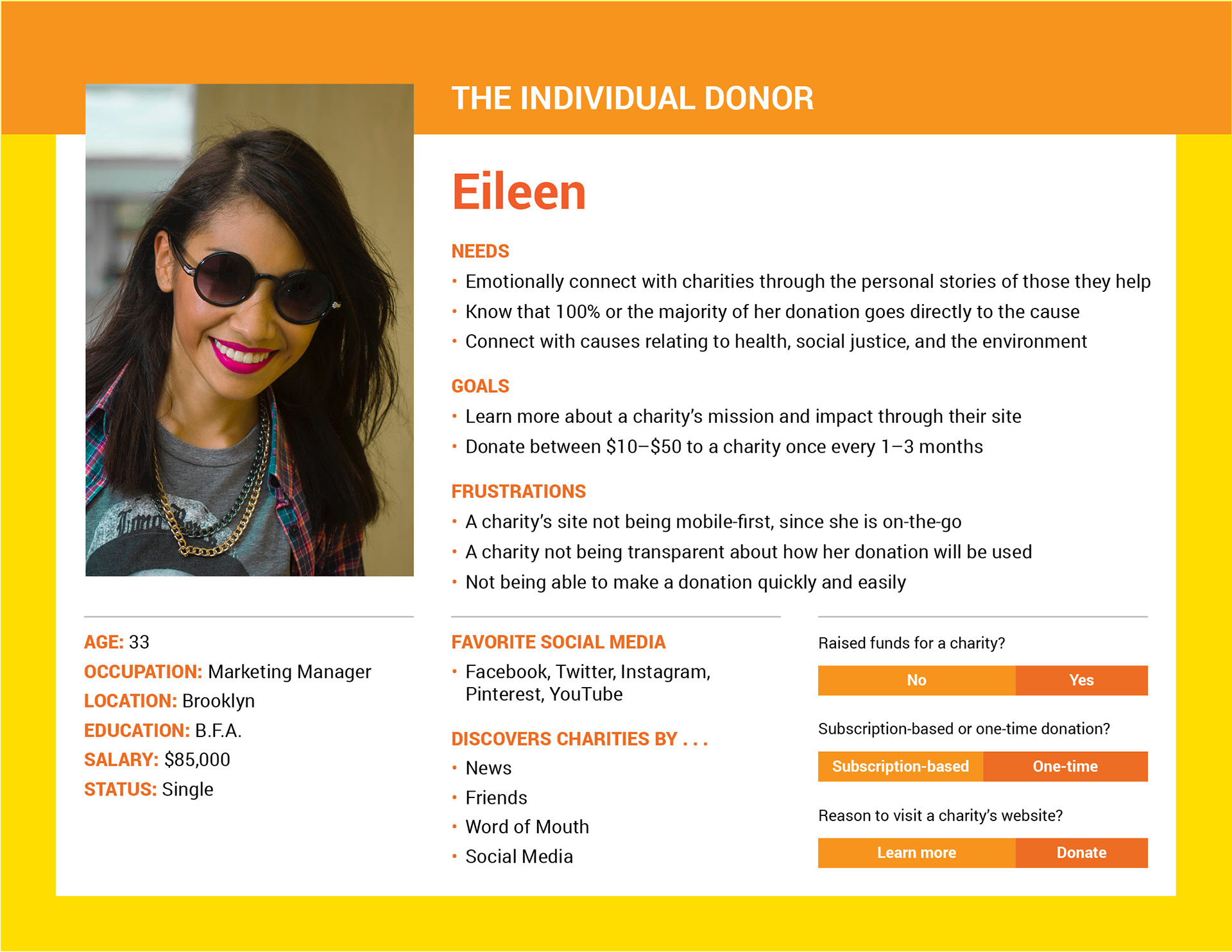 After conducting my research and creating user personas, I realized individual donors and corporate foundation donors are looking for similar things on the SAFE website such as measurable impact and personal stories. My next step is to create a new information architecture structure for the site, map an individual donor workflow, and map a corporate foundation donor workflow. Please come back for more updates.